82 – Nutella and breakfast fare nuttiness, highest intensity crossfit

Podcast: Download (Duration: 20:35 — 14.1MB)
Subscribe: RSS
(duration 20:35)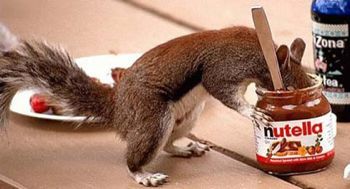 In this episode we start off discussing chocolate and then examine the nutritional nature of the lawsuit against Nutella. The typical "breakfast foods" that are promoted and consumed tend to have an overabundance of carbohydrates, especially in the form of grains and sugars (such as fruit juices). Nuts and at least 70% dark chocolate rock! The 2011 CrossFit Games were a tour de force in high intensity routines; simply amazing, yet we need to be wary of the high cortisol levels downside. Short, high intensity workouts are great, but overtraining isn't conducive to health and longevity. Finally, congratulations to low-carber interviewer extraordinaire Jimmy Moore, who celebrated his 500th podcast episode last September.
We invite you to join our FB fan page: http://facebook.com/healthymindfitbody
Click here to get your free audio download of the 3 Pillars Of Achieving Your Perfect Weight Using The Mind/Body Connection, as well as our succinct newsletter.
Items mentioned in this episode:
http://www.slate.com/articles/life/food/2011/08/go_ahead_eat_chocolate_for_breakfast.html
http://www.nutellausa.com/faqs.htm
http://games.crossfit.com/finals/workouts
http://games.crossfit.com/about-games
2011 CrossFit Games – The Champions, Rich Froning and Annie Thorisdottir
http://www.youtube.com/watch?v=ItDWedJpwpw
Congrats, Jimmy!
http://www.thelivinlowcarbshow.com/shownotes/4478/500-our-500th-episode-extravaganza/
Our guest appearance on Jimmy's show…
http://www.thelivinlowcarbshow.com/shownotes/1814/wes-bertrand-and-kevin-koskella-offer-you-a-healthy-mind-fit-body-episode-353/
Feel free to rate and/or review our show on iTunes!