The Paleo Solution by Robb Wolf: Book Review
Having read many books about nutrition/fitness/health, especially in the low carb and paleo/primal arenas, I wasn't sure if I could be excited about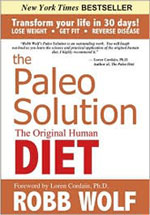 yet another one…yet, I was thrilled to read Robb Wolf's Paleo Solution: The Original Human Diet!
(Being an avid listener to his podcast, I have to admit I was chomping at the bit to devour the book!)
The book is science and relevant data written in a humorous and entertaining fashion, with tons of real world evidence (much like Wolf's podcast at http://robbwolf.com).
Robb tells his story and the stories of several people who he trains, gets into the nitty-gritty of paleo nutrition (or as I like to call it, "nutrition"!), including the problem with grains, the significance of sleep and stress when it comes to our health, and how to implement the paleo lifestyle, EASILY!
I specifically liked all the tips he gives along the way, and the 30-day meal plan (I've already tried the Quick Paleo Pancakes and the Sloppy Joes…thumbs up to both!).
I think this book covers it all when it comes to your physical health. The fact that it is a fun and easy read as well as enlightening allows me to have no reservations in recommending it to the bio-chemistry fitness geek and the couch potato lay-person at the same time.
Even though I'm already a paleo guy, I learned a lot of new information that I have begun to implement and reap the benefits from. Whatever level of knowledge you may think you have, reading this book is sure to lift your health and your spirits!
Sign Up here and receive:
"The Three Pillars of Achieving Your Perfect Weight Through the Mind-Body Connection" Audio