Keeping Healthy in Costa Rica
I just spent an amazing 9 days in Costa Rica, checking out a volcano, horseback riding (1st time!), lots of hiking, zip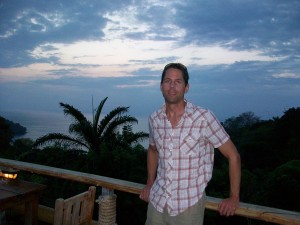 lining (thrilling!), river rafting (class 3-4), and chilling out with monkeys on the beach.
The week was so action-packed that I didn't have time to work out, or even sit down and read. My normal workout routines of swimming, running, and strength training did not happen. When I was at the beach, the weather was a hot 95 degrees (or 33C) with humidity, and the ocean temp must have been close to 90! It wasn't even refreshing to get in the water.
However, staying in shape was not a problem! I got a lot of exercise and felt good and strong most of the trip (until the 95 degree humidity days towards the end!). Here were the keys in staying fit while traveling for me:
1. Eliminating carbs whenever possible. Since the main dish in Costa Rica is beans & rice, it's not easy to eat completely low carb there. Beans & rice isn't the worst thing ever, since beans have fiber & protein, but it's still a high carb meal. Usually I would try to keep the R & B to a minimum at each meal (i.e. eggs, rice, and beans for breakfast instead of eggs & toast), and just skip the extra carbs like bread & dessert.
2. Keeping alcohol to a minimum. It's easy to get carried away on vacation and have multiple drinks. These can quickly add up in terms of bad calories, and to me, really aren't necessary. If I'm having a good time on vacation, I don't feel that lots of booze is going to enhance my feeling! A couple of light beers would usually be my max when it came to the dinners out.
3. Lots of activity. There wasn't much time to sit around on this trip, and that's as it should be. This incidental exercise is one of the best things for making sure your fitness level is kept in check, even if you are traveling for several weeks. Now it isn't a struggle to resume the workouts I was doing before I left.
Sign Up here and receive:
"The Three Pillars of Achieving Your Perfect Weight Through the Mind-Body Connection" Audio