Podcast: Download ()
Subscribe: RSS
(duration 26:20)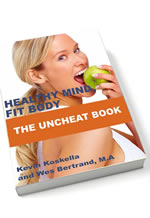 In this show we delve into a couple listener questions regarding the transition to a healthier dietary lifestyle. What do you with your carb/junk food "cravings"? The main task involves viewing your feelings and food choices as part of your psychology, and thus within your control. For one, it's important to find alternatives that are both healthier and just as tasty as your not-so-healthy food choices. Second, we recommend a couple powerful psychological methods (nonviolent communication and sentence completion exercises) to reorient your way of dealing with food, which will help you come to better terms with your own emotions and choices.
Our new bonus program, Defeat Your Cheat Days, entails effectively dealing with psychological patterns and altering habits acquired since childhood for meeting your needs; and this entails developing compassion for your child-self and becoming your own best friend. The 5-day sentence completion program will help you acquire the self-knowledge and motivation needed for optimal functioning in this realm. We provide more details in our email newsletter (http://freefitnessaudio.com) as well as at http://getyourperfectweight.com
We invite you to join our FB fan page: http://facebook.com/healthymindfitbody
Go to http://freefitnessaudio.com to get your free audio download of the 3 Pillars Of Achieving Your Perfect Weight Using The Mind/Body Connection, as well as our succinct newsletter.
Items mentioned in this episode:
http://livinlavidalowcarb.com/blog/the-llvlc-show-episode-468-tim-ferriss-promotes-his-slow-carb-approach-from-the-4-hour-body/10680
http://healthymindfitbody.com/2010/06/02/should-you-have-cheat-days-on-a-diet/
http://healthymindfitbody.com/2010/12/17/the-4-hour-body-and-cheat-days/
Feel free to rate and/or review our show on iTunes!
http://itunes.apple.com/WebObjects/MZStore.woa/wa/viewPodcast?id=332309038