Paleo Kits & Steve's Original snacks- A Review
In August, I had Steve Liberati on the podcast, the creator of Paleo Kits- snack foods that follow the Paleo diet very closely. He sent me some samples and I was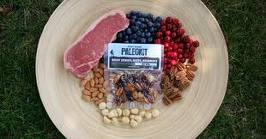 able to try them out the past couple of weeks. Here's what I got:
Original Paleokit: Beef jerky, nuts, and berries
Grass Fed Paleokit: Grass fed beef jerky, nuts, and berries
PaleoKrunch Cereal: Grainless granola cereal made with coconut, pumpkin seeds, sunflower seeds, almonds, and honey.
PaleoKrunch Bar: Grainless granola bar made with coconut, pumpkin seeds, sunflower seeds, almonds, and honey.
Original Just Jerky: Just Beef Jerky!
Receiving the package of paleo snacks in the mail was excellent timing for me. As I'm trying to eat more and more paleo-ish, one of the hardest things is finding quick, easy snacks that are also healthy. Most of the bars out there are either too high in carb, or they have many chemicals that I can't pronounce!
I've been really enjoying the jerky, nuts and berries. It's an odd combo, but it has that sweet-salty taste that actually goes well together. And the plain jerky is fantastic for a quick snack when you are really after some extra protein.
The PaleoKrunch cereal has really been a treat! I haven't eaten cereal in years and usually prepare a breakfast in the morning. But with this cereal, I'm pouring coconut milk over it and it's good to go. I found that it works best to mix in some light coconut milk with the real thing, so that it mixes well with the contents of the cereal. This meal left me feeling satisfied and energized for hours after- as opposed to regular cereal which used to leave me hungry a short time after eating it! I still would not want to eat PaleoKrunch every day- it seems like more of a twice a week thing, but it's great if you're short on time in the morning.
And the bars, they are just the cereal in bar form. They taste great, my only problem with them is that they crumbled in my hands! I guess that's what happens when they're not loaded with preservatives!
Overall I definitely recommend Steve's Original snacks.
Right now, you can get 10% off your order by going to http://stevesoriginal.com and using discount code 'healthymindfit'.
Enjoy!
Sign Up here and receive:
"The Three Pillars of Achieving Your Perfect Weight Through the Mind-Body Connection" Audio