91 – Health and fitness traveling tales from Asia
Podcast: Download (Duration: 24:01 — 16.5MB)
Subscribe: RSS
(duration 24:00)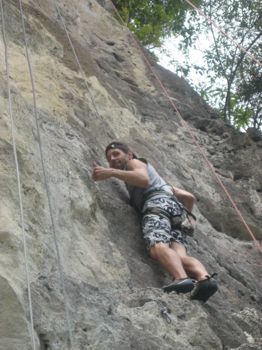 In this show, we discuss the fine art of eating healthily while traveling abroad. Kevin relates his ongoing experiences in southeast Asia, where there's hot food and hot climate! He's noticed lots of junk food and soda that people are consuming, especially tourists. The widespread consumption of rice is probably the least harmful grain, although there's not much nutrition in it–just extra carbs (aka, cheap filler). Coconut is once again a very healthy choice (especially the oil and milk in curry), as opposed to oh-so sweet banana pancakes! Walking and pushups and other resistance training are helpful to stay in shape while on the go.
We invite you to join our FB fan page: http://facebook.com/healthymindfitbody
Click here to get your free audio download of the 3 Pillars Of Achieving Your Perfect Weight Using The Mind/Body Connection, as well as our succinct newsletter.
Items mentioned in this episode:
Find out what Kevin's been up to:
http://freedomlovin.com
A Taste of Exotic Meats at the Explorers Club Annual Dinner
http://www.popsci.com/science/article/2012-03/exotic-meats-explorers-club-annual-dinner
India's City Dwellers at Greater Risk Than Americans for Heart Disease
http://blogs.scientificamerican.com/observations/2012/04/20/indias-city-dwellers-at-greater-risk-than-americans-for-heart-disease/
Russell Peters – about Chinese and Indian price negotiation
http://www.youtube.com/watch?v=OO_Fc-OT1Pg
We appreciate your rating and review on iTunes!