73 – Complaining effectively with psychologist Guy Winch, part 1
Podcast: Download (Duration: 41:44 — 28.7MB)
Subscribe: RSS
(duration 41:43)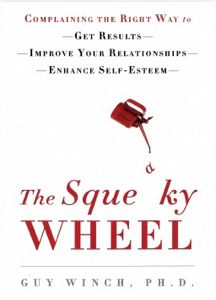 This is the first half of our interview with psychologist Guy Winch, author of a new book titled, "The Squeaky Wheel: Complaining the Right Way to Get Results, Improve Your Relationships and Enhance Self-Esteem." We explore the various psychological aspects of complaining. Going on rants and venting to others who aren't in a position to resolve our complaints may be emotionally useful at times, yet they and things like "complaints choirs" tend to fall short of effective complaining.
Attitudes of helplessness, hopelessness, and pessimism practically guarantee ineffective complaining, while thinking optimistically, and especially addressing the proper person, practically guarantee getting your complaints resolved. Being persistent and methodical helps a great deal in the complaining process too. Excessive complaining, however ineffective, tends to reflect a victimized mindset that reinforces itself and fosters feelings of disempowerment and defeat. Hostility, blaming, and criticism usually generate defensiveness in the other person and represent ineffective complaining–whereas showing empathy, understanding the other person's context, as well as reframing your own emotional state, represent effective complaining. To be continued next week…
We invite you to join our FB fan page: http://facebook.com/healthymindfitbody
Go to http://freefitnessaudio.com to get your free audio download of the 3 Pillars Of Achieving Your Perfect Weight Using The Mind/Body Connection, as well as our succinct newsletter.
Items mentioned in this episode:
Guy's site, where you can discover more about The Squeaky Wheel
http://guywinch.com
http://www.psychologytoday.com/blog/the-squeaky-wheel
http://www.psychologytoday.com/blog/the-squeaky-wheel/201101/what-complaints-choirs-tell-us-about-our-complaining-psychology
http://www.guywinch.com/the-burrito-manager-who-could-not-say-sorry/
Please consider making a donation to the HMFB cause! Much appreciated :)
http://healthymindfitbody.com/donate/
Feel free to rate and/or review our show on iTunes!
http://itunes.apple.com/WebObjects/MZStore.woa/wa/viewPodcast?id=332309038