71 – Getting Skinny with guest Diana Spechler, part 2
Podcast: Download (Duration: 23:53 — 16.4MB)
Subscribe: RSS
(duration 23:53)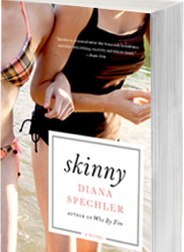 This is part two of our two-part interview with author Diana Spechler, author of Skinny, her latest novel. We pick up our discussion regarding body image issues, particularly being dissociated from certain feelings and disconnected from the process of binging. Increasing your awareness is a necessary but not sufficient condition for moderating your eating. Having nutritional knowledge is vital, as is motivation to treat your body as your temple. We also discuss some letters "To fat people" in the book. Becoming comfortable with being overweight yet being advised to exercise more and eat the same foods that made you overweight (just smaller portions) indeed reflect our confusing food culture. Secreting less insulin by eating fewer grams of carbs daily enables your fat stores to be metabolized. Hunger and desire oftentimes pose motivation challenges, in which issues of control and self-control arise.
We invite you to join our FB fan page: http://facebook.com/healthymindfitbody
Go to http://freefitnessaudio.com to get your free audio download of the 3 Pillars Of Achieving Your Perfect Weight Using The Mind/Body Connection, as well as our succinct newsletter.
Items mentioned in this episode:
Diana Spechler's website:
http://dianaspechler.com (where you can order her latest novel Skinny)
Diana's other site, for anonymous confessions:
http://bodyconfession.com/
Please consider making a donation to the HMFB cause! Much appreciated :)
http://healthymindfitbody.com/donate/
Feel free to rate and/or review our show on iTunes!
http://itunes.apple.com/WebObjects/MZStore.woa/wa/viewPodcast?id=332309038