99 – Interview with Eat by Choice, Not by Habit author Sylvia Haskvitz
Podcast: Download (Duration: 36:58 — 25.4MB)
Subscribe: RSS
(duration 36:57)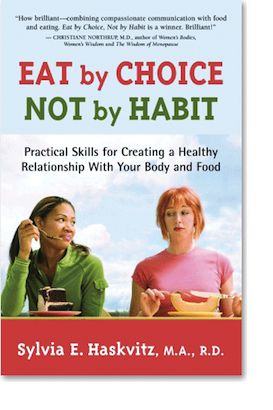 In this show we talk with nonviolent communication (NVC) trainer Sylvia about her book and experiences helping individuals relate to themselves and others in life-enriching ways. Instead of playing the blame game (which can become never-ending), NVC focuses on the quality of the connection in order to empathize and get needs met. Sometimes food can be used as a strategy to try to fulfill some other need (yet to be discovered). Mindfulness brings choice, a vital need. It's helpful to connect compassionately with your inner voice(s) (especially your "inner critic"), so you can overcome costly strategies. In the face of demands (both inner- and outer-), we sometimes try to meet our need for autonomy in tragic ways. This presents an opportunity to bring more awareness to your inner dialogue, be best friends with yourself, and embrace better strategies.
We invite you to join our FB fan page: http://facebook.com/healthymindfitbody
Click here to get your free audio download of the 3 Pillars Of Achieving Your Perfect Weight Using The Mind/Body Connection, as well as our succinct newsletter.
Items mentioned in this episode:
Sylvia's site:
http://eatbychoice.net/
Eat by Choice, Not by Habit: Practical Skills for Creating a Healthy Relationship With Your Body and Food: Sylvia Haskvitz MA RD: Kindle Store
http://www.amazon.com/Eat-Choice-Not-Habit-ebook/dp/B003GXG3KO/
print version
http://www.nonviolentcommunication.com/store/product_info.php?products_id=46
ebook version
http://nonviolentcommunication.com/store/product_info.php?products_id=127
Listen to Stephanie Bachmann Mattei speak with Sylvia about her life and work in this 2011 interview:
http://nvctraining.com/index.php?option=com_k2&view=latest&layout=latest&Itemid=919
We appreciate your rating and review on iTunes!